PA HIT Day 2019 - Awards Ceremony
April 29, 6:00pm, EDT - 8:00pm, EDT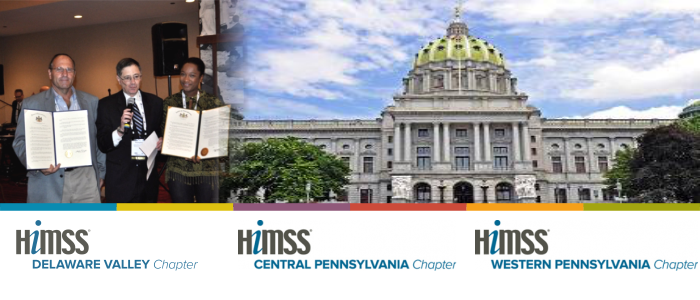 PA HIT Day is an opportunity for HIMSS members in Pennsyvania to meet state legislators who help to create, advocate, and advance Healthcare IT(HIT) policies within the Commonwealth. The 2019 PA HIT Day will focus on telehealth, interoperable health records for students, and Healthcare IT workforce initiatives.
DVHIMSS members are encouraged to attend events related to PA HIT Day as these events provide great insights into what YOUR elected officials are doing to support HIT.
The three PA HIMSS chapters will be recognizing selected legislative leaders at an awards ceremony on Monday, April 29, 2019 in Harrisburg, PA as part of our HIT advocacy efforts.  A reception will follow the awards ceremony.
2019 awardees
Executive Award
Hon. Teresa D. Miller, J.D., Secretary, Pennsylvania Department of Human Services
Legislative Award
Representative Bryan Cutler. Member, PA House of Representatives, Majority Leader, District 100
Life-Time Achievement Award
Mr. Patrick Keating, Chief Information Officer, PA Department of Health/PA Department of Drug and Alcohol Programs
Leadership Award
Ms. Alexandra (Alix) Goss. Member, Full Committee HHS/National Committee on Vital and Health Statistics (NCVHS).
Staffer of the Year Awards
Ms. Diane Acri-Sheffer, Esq., Counsel to Senator Jake Corman, Senate Majority Leader.
Mr. Wayne Crawford, Esq., Executive Director of the House Republican Professional Licensure Committee.
Event Sponors