Clinical Informatics Symposium - Northern Kentucky University
September 21, 8:30am, EDT - 5:00pm, EDT
Informatics Symposium
September 21, 2018
Northern Kentucky University Student Union
Ballroom A
Highland Heights, KY 41099
Registration
Early Bird deadline is September 1, 2018
Join us as we bring together health IT professionals, clinicians, executives, and vendors from around the state for a thought-provoking event to spark innovation and progress within the industry. With a focus on clinician engagement, data analytics, business intelligence, and security, attending will provide an unparalleled opportunity for you to learn and network.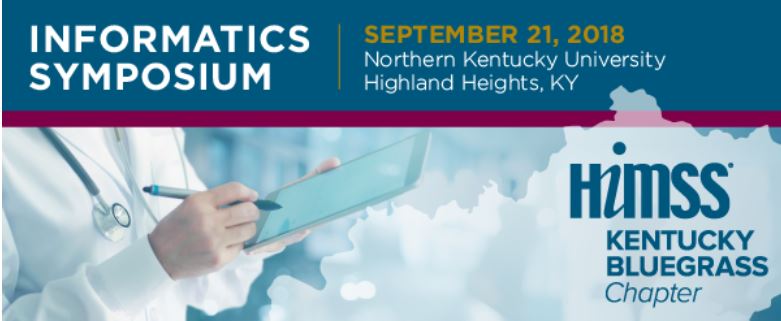 Early Registration before September 1
Students: $30
Healthcare Professionals: $70
---
Kentucky Bluegrass Chapter of HIMSS is pleased to be hosting their annual fall Informatics Symposium on Friday, September 21 at the Northern Kentucky University campus. We invite you to share your knowledge by submitting an abstract for consideration.
Presentations that highlight activities within Kentucky and the surrounding states are welcome, with an emphasis on clinical engagement, security, and big data. Submissions should focus on sharing relevant content such as providing expertise on a topic or detailing a particular case study and demonstrating lessons learned as opposed to commercial promotion.
Deadline: August 15, 2018