Louisiana Chapter of HIMSS Newsletter for Fall 2017
President's Welcome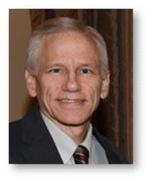 In this first newsletter of our 2018 fiscal year I would like to welcome all our new LA Chapter members and thank all of our members for being in our growing and active chapter.  We just wrapped up one of our most active years ever in 2017 and I would like to thank Chad Cothern for his second time serving as our chapter President and providing the leadership for a year that saw our membership expand approximately 15%, continued collaboration with Mississippi and Alabama chapters for another successful GC3 Conference, our first Nursing Informatics Bootcamp program, and our second LAHIMSS Chapter Awards Dinner as we closed out the year.
As our 2018 year gets underway and I follow Chad with this being my second opportunity to serve as the LA Chapter HIMSS President, we will be focused on improving our execution of event planning, communications, and operations,  increasing our attendance for chapter events, and increasing member participation in chapter working committees. The committees are a great way to dip your toe in the water, find out about chapter operations, and let you see firsthand what being involved entails.
The highlights of our first half of our fiscal 2017/18 year plan includes: Connect LA Day in October; GC3 Conference in November, and a Holiday Social in December.  For additional information on specific events please visit our LA Chapter Website often and watch for our newsletters and announcements.
A listing of our board members for 2018 can be seen here - 2018 LA HIMSS Chapter Board - and I encourage you to take a few minutes to read up on the broad range of health care sector experience and interests your chapter board represents.  Several of our board members have not only been very active in our chapter but have also volunteered to work on and in some case serve in prominent roles on national HIMSS committees: Chad Cothern, Past President, serves as the chair of the national Nursing Informatics committee and Vice Chair for the Southern Region for the Chapter Advocacy Roundtable; Alan Thriffiley, Treasurer, is serving his second year on the national Chapter Task Force; Claudia Miller, Secretary, has been serving on the Clinical and Business Intelligence (C&BI) Population Health Task Force since 2014; Liz Hartley, President Elect, serves on the Interoperability and Health Information Exchange Committee (I&HIE); and Hank Fanberg, Advocacy Chair, serves on the Public Policy committee. Your chapter board is an awesome group of individuals to work with and if you have an interest in getting more involved in our chapter activities and perhaps serving on a future board please reach out to one of our board members about getting and being involved with one of our working committees: Programs, Communications, Membership, Sponsorship, Advocacy, or Program Development. You can also send us an email at louisiana.info@himsschapter.org indicating your committee interest and the respective chairs, as noted in our board member profiles, will be glad to reach out to you.
Errol Labat, MBA, CISA
President, Louisiana HIMSS
---
New Year, New LA HIMSS Board
Welcome to fiscal year 2018! The LA HIMSS Board has been formalized for the year and are as follows:
President – Errol Labat, MBA, CISA, Director of Enterprise Risk Management and Audit Consulting for BlueCross and BlueShield of Louisiana
President Elect and Communications Chair – Elizabeth Hartley-Sommers, BSN-RN, MS, Clinical Data Exchange Manager – EDM, Blue Cross and Blue Shield of Louisiana
Past President – Chad Cothern RN, BSN, CPHIMS, FHIMSS, President and CEO of Healthcare Informatics Resource Exchange
Secretary – Claudia Miller, CPHIMS, FHIMSS, MBA, PMP, Senior Manager with The Chartis Group
Treasurer – Alan Thriffiley, CPHIMS, FHIMSS, Project Manager for LSU Health Care Services Division's Center for Healthcare Effectiveness
At Large / Sponsorship – Mark Schroeder, Project Coordinator and Software Developer, LSU Health Care Services Division's Center for Healthcare Effectiveness
At Large – Nadine Robin, Southeast Executive Director, Aledade, Inc.
Professional Development Chair – Michelle Martin, MBA, RHIA, M.Ed., FAHIMA, Associate Professor, Louisiana Tech University
Programs Chair – Paul Douglas, CISA, CCSFP, Associate Director in P&N's Consulting services division
Program Development Co-Chair - Jan Fuller, MBA, RHIA, CPHIMS, FAHIMA, Associate Professor, Louisiana Tech University
Program Committee Member - Alan Abshire, Director of HIT Operations, Louisiana Health Care Quality Forum
Membership Chair – Jeff Rayder, PMP, CLSSGB, Director of the Epic Community Connect Program for FMOLHS
Advocacy Chair – Hank Fanberg, MBA, member of the Office of the CIO and Director, Technology Advocacy for CHRISTUS Health
Read more about your LA HIMSS FY2018 board members here.
---
Old Rail Brewing Company Education Session
On May 17th, Louisiana HIMSS hosted an education session on cloud technology, cybersecurity and compliance implications at the Old Rail Brewing Company in Mandeville, LA. The event included guest speakers from Spectrum Enterprises and Postlethwaite & Netterville. Both Spectrum and P&N shared their expertise and experience with cloud technology and cybersecurity. Moving health data storage to the cloud can be an intimidating decision. These expert speakers relayed information on risks, benefits, pitfalls and values involved in cloud technology and the security and compliance issues involved in its utilization.
---
2nd Annual LA HIMSS Awards Dinner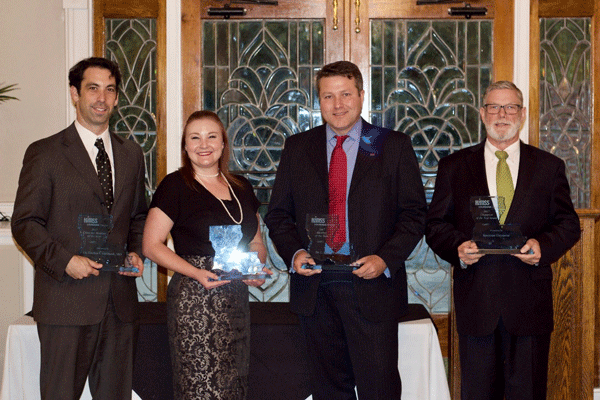 From Left to Right: Dr. Esteban Gershanik, Liz Hartley-Sommers representing Dr. Rebekah Gee, Chad Cothern representing Dr. Philip Caillouet, Spectrum Business represented by Mike Brown
White Oak Plantation hosted the 2nd Annual LaHIMSS Chapter Awards Dinner on June 15th 2017. Chef John Folse's staff prepared a fabulous feast for attendees as awardees accepted the honor. The Awards Dinner was a celebration of the strength of the Health Information Technology Industry in Louisiana. Attendees included health system, government, hospital, physician, payer and vendor leadership from around the state. As this collection of the brightest minds in health information management socialized and networked, past president Chad Cothern introduced the awards. Acceptance speeches were full of gratitude for the recognition of hard work and hope for a continued bright future for health IT in Louisiana. Dinner was delicious, speeches were heartfelt and jokes were funny. The 2017 LA HIMSS Chapter Awards Winners were:
Dr. Rebekah Gee, Secretary Louisiana Department of Health – LaHIMSS Public Servant of the Year  who could not attend and was represented in photos by Liz Hartley-Sommers President Elect of the Louisiana Chapter of HIMSS.
Dr. Philip Caillouet, Professor, Director of the Louisiana Center for Health Informatics – LaHIMSS Member of the Year who could not attend and was represented in photos by Chad Cothern, Past President of the Louisiana Chapter of HIMSS.
Dr. Esteban Gershanik, Chief Information Officer Louisiana Department of Health – LaHIMSS Clinician Member of the Year
Spectrum Business – LaHIMSS Champion of the Year, Award Accepted by Mike Brown
---
Upcoming LA HIMSS Events
The FY2018 LA HIMSS board has a schedule packed with education and networking to offer this year. Here are the next few upcoming events.
September Lunch and Learn
Thursday, September 28th 2017 from Noon to 2:00
Christiano's Restaurant
724 High St.
Houma, LA 70360
It's back to school season and even lifelong professionals should continue learning. Enjoy lunch at Christiano's in Houma and take part in a discussion on how Payers and Providers are using data to improve quality and value in the Louisiana healthcare ecosystem. Trish Olivier, from Blue Cross and Blue Shield of Louisiana, will share her expertise on the use of healthcare data in shaping the quality and cost of healthcare in Louisiana. Check your inbox for more information and to register for this event. Both members and non-members are encouraged to attend this lunch event to connect with fellow Health IT professionals, and to hear about how payers and providers are using data to improve quality and value.
Connect Louisiana Day
Tuesday, October 3rd, 2017 from 1:00 pm to 5:30 pm
Louisiana's Old State Capitol
100 North Boulevard
Baton Rouge, LA 70801
The Louisiana Department of Health's Second Annual Connect Louisiana Symposium is being held in conjunction with National Health IT Week. Keynote speakers are former National Coordinators Karen DeSalvo, MD and Vindell Washington, MD. Come discuss how Louisiana can leverage health IT to better health for all. For more information or to register for the event, please click here.
5th Annual GC3 Conference
Thursday and Friday, November 16th and 17th
New Orleans Marriott
555 Canal Street
New Orleans, LA 70130
GC3 conference is hosted by the Alabama, Louisiana and Mississippi chapters of HIMSS. The conference includes education sessions, vendor exhibitions and networking. For more information and to register, please click here.
Other Events
Please check the LA HIMSS website often for updates on these events and other events coming this year.
---
Become a HIMSS Member
If you are not already, we encourage you to become a HIMSS member. National HIMSS membership includes a chapter membership of your choice (of course we hope you choose Louisiana). National HIMSS membership provides access to a network of resources, education, industry knowledge and cutting edge innovation. Louisiana HIMSS Chapter membership provides member level pricing for events, the ability to participate in committees and access to a network of local health IT resources. If you would like to join or renew your membership, please click here. Chapter membership is only $39!