Louisiana Chapter of HIMSS Newsletter for Winter 2018
President's Message
Welcome to the 2018 Winter Newsletter and an exciting start to the second half of the Louisiana Chapter of HIMSS (LA HIMSS) fiscal year! On behalf of our LA HIMSS board, I would like to wish all of our chapter members, sponsors, and friends best wishes as we all get into the full swing of 2018.
Wow! What an incredible 2018 it has been for LA HIMSS and its leadership. In December, as we closed out the first half of our fiscal year, we learned that LA HIMSS is being recognized by HIMSS as the Small Chapter of the Year. And, our Fiscal Year 2017 President, Mr. Chad Cothern, RN, BSN, CPHIMS, FHIMSS has been named Chapter Leader of the Year. As we rolled into the second half of our fiscal year, in late January we received another notice from HIMSS that Mr. Hank Fanberg, current Chair of the LA HIMSS Advocacy Committee, was named the 2017 Chapter Advocate of the Year! What an exciting trifecta of national recognition and pinnacle of achievement for LA HIMSS!
Additionally, we learned in January that the Lafayette General Medical Center has been selected as this year's recipient of the HIMSS Nicholas E. Davies Award of Excellence. The recognition awards for each of these outstanding achievements will be given out at the Awards & Recognition Gala at HIMSS18 on Thursday evening, March 8, 2018. Congratulations to Chad, Hank, and the Lafayette General Medical Center for their achievement and the tremendous positive recognition this brings to Louisiana healthcare in 2018!
Outside of the recognition received LA HIMSS also had an active and successful first half of fiscal year 2018. Our event calendar was busy as we were engaged in supporting the successful Connect LA Day in October, served as the host chapter for a very successful GC3 Conference in New Orleans in November, and hosted lunch and learn events in Houma in September and Lafayette in January. The second half of our LA HIMSS 2018 fiscal year plan includes: a cooperative spring social event with the Baton Rouge PMI Chapter, 2019 officer nominations and elections, announcement of our 2018 HIT Scholarship recipient, and our third LA HIMSS Annual Recognition awards to wrap up our year in June. For additional information on specific events please visit our Louisiana Chapter Website often and watch for additional details in our newsletters and announcement notices.
With 2019 nominations/elections coming up shortly, I encourage anyone who has been a member of HIMSS for at least a year and has an interest in working with some nationally recognized leaders in healthcare to reach out to me or one of our board members for information on getting involved with a LA HIMSS working committee. Serving on a working committee could be a stepping stone to becoming a future board member and/or board officer. Our active working committees include Programs, Communications, Membership, Sponsorship, Advocacy, and Program Development. You can also send us an email at louisiana.info@himsschapter.org indicating your committee interest. The chair of that committee, as noted in our board member profiles, will be glad to reach out to you.
If you are planning to attend HIMSS18, please stop by and visit with us at the Communities Carnival on Tuesday, March 6, 2018, from 5 to 6:30 p.m. in the Palazzo Ballroom at the Venetian. The LA HIMSS board appreciates you for choosing to be a member of our Louisiana Chapter and for considering our invitation to get involved and make a difference!
---
Chapter Events – Fall and Winter 2017/2018
Fall Lunch and Learn        
Trish Olivier, Quality Informatics Advisor with Blue Cross Blue Shield of Louisiana, was the keynote speaker at the Louisiana Chapter of HIMSS Fall Lunch and Learn event in Houma, LA.  During the event, she spoke about the role data plays in Healthcare today; how payers and providers can partner on data sharing in the future; and how Blue Cross is currently working with their provider network to use data to drive healthcare quality.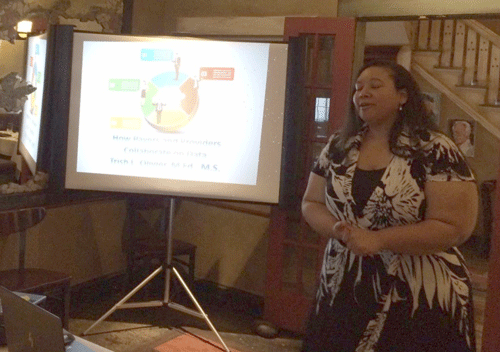 Trish Olivier
---
Connect Louisiana Day 2017


Dr. Rebekah Gee                  Dr. Karen DeSalvo                 Dr. Vindell Washington                  David Muntz
In October 2017, the Louisiana Chapter of HIMSS and the Louisiana Department of Health helped celebrate National Health IT Week with the 2nd annual Connect Louisiana Educational Symposium. Over 100 members of the provider, payer and vendor communities came together for a day of shared learning and discussion to help Louisiana move towards creating connections which will move healthcare forward in using technology.
This event garnered attention from Governor John Bel Edwards who proclaimed October 2nd through October 6th, 2017 Health Information Technology Week in the State of Louisiana. In his proclamation he states "The ability to exchange health information confidently and securely across healthcare settings is foundational to transforming America's healthcare delivery system".
Special thanks go out to Louisiana Department of Health Secretary, Dr. Rebekah Gee, former National Coordinators for Health IT Dr. Karen DeSalvo and Dr. Vindell Washington and former Principal Deputy National Coordinator David Muntz.  Discussion topics included: the future of Health IT; Louisiana Medicaid's utilization of information technology; and updates on the data analytics and interoperability projects underway. The Louisiana Chapter of HIMSS is grateful to these leaders for speaking and the open discussion with attendees.
---
GC3 2017
In November of 2017, Louisiana, Alabama and Mississippi chapters of HIMSS joined forces to bring you the 5th annual Gulf Coast Chapters Conference or GC3.   The conference was held in New Orleans and hosted approximately 300 attendees. This year, GC3 included a preconference symposium, adding a day of education and conversation centered on Combating the Opioid Epidemic to the already power packed line up.
The GC32017 regular conference kicked off with a panel of state department of health officials including: Dr. Esteban Gershanik from Louisiana Department of Health, Meg Pearson from Mississippi Department of Health and Michael Smith from the Alabama Department of Health. Dr. Vindell Washington, former National Coordinator for Health Information Technology and current Chief Medical Officer of Blue Cross and Blue Shield of Louisiana provided the keynote address and the conference closed with a CIO Panel including Bennett Cheramie of Baton Rouge General Medical Center, Vance Green of Forrest General Hospital and Chris Davis of Brookwood Baptist Health. Other topics included in the conference included:
Digital Empathy
The Future of the ACO
Designing a User Experience that Drives Patient Engagement
Reducing Preterm Births and the Progression of Diabetes in the Mississippi Delta
Improving patient Experience in the Era of Consumer Driven Healthcare
Managing Risk: The Challenges of Complex Health and Social Needs
Powering LowCost Virtual Visits and telehealth Platforms Using Skype for Business
Learning to Walk Before You Run: Analytics Strategies to Optimize Health Data Utilization
IT Governance: Principles, Policies and Process
Are Compliance and Quality Communicating? Navigating the Quality Payment Program
Investigating Barriers to Increased Use of Electronic Health Records in Rural Mississippi
The Art of Performing Risk Assessment
The Louisiana Chapter of HIMSS would like to extend thanks to the GC3 Planning Committee of Louisiana, Alabama and Mississippi and all volunteers who worked diligently to coordinate this event.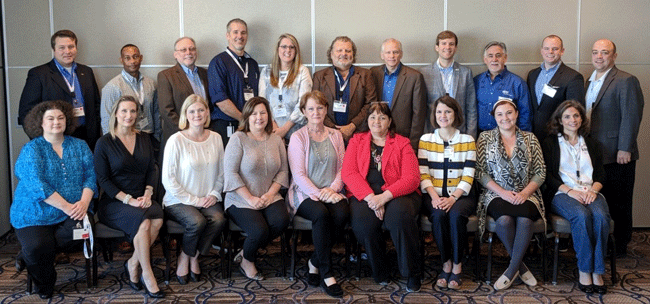 2017 GC3 Planning Committee
---
Straight Talk with Mike Bertaut
Straight Talk with Mike Bertaut is a great source of timely information about healthcare reform, cost, and quality. Mr. Bertaut, the main contributor to Straight Talk, has over 25 years of experience in healthcare and is recognized as a national commentator on healthcare reform having been quoted by the Washington Post, Chicago Tribune, and other state and local publications.
Visit Straight Talk online at https://www.straighttalkla.com/ to read about current trends in Healthcare including: prescription drug safety, the opioid crisis, understanding the Affordable Care Act, and other vital topics. Straight Talk and Mike also host podcasts, sometimes engaging other healthcare professionals. Please take 10 minutes to listen to his podcast about the opioid epidemic as he talks with clinical pharmacist Brice Mohundra about what Blue Cross Blue Shield is doing to help stem the epidemic (https://www.straighttalkla.com/straight-talk-podcast-episode-3/).
Mike is also a regular guest on Talk Louisiana radio show, WRKF 89.3. Check out their website at http://wrkf.org/programs/talk-louisiana to find out more.
---
Winter Lunch and Learn
January 2018 brought another Lunch and Learn event to the Lafayette Petroleum Club. The topic discussed was locally applied health information technology and the University of Louisiana Lafayette's involvement with information technology to meet some of today's healthcare challenges.  Mr. Delcambre talked about the national Code-A-Thon in which ULL participated using predictive analytics and blockchain technology as a means to help impact the opioid epidemic our nation is currently facing.  We would like to thank Matthew for the excellent insight into the work being accomplished at ULL and with their partners.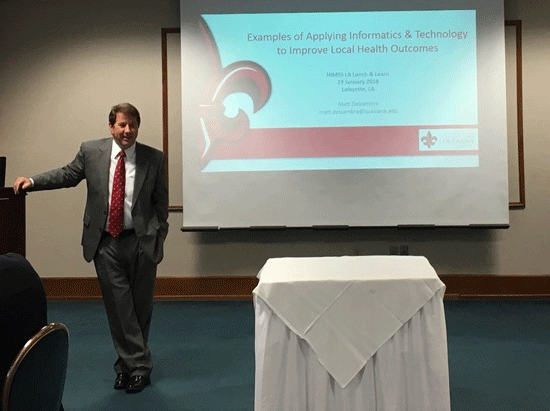 Matthew Delcambre
---
Chapter Events – Spring/Summer 2018 
March 2018 –  Advocacy Day
The Louisiana legislature opens up in March 2018 for a new session. During this time, the Louisiana Chapter of HIMSS would like to invite our members and any other interested party to reach out to legislators at the state level on issues related to health information technology. The chapter is scheduling an Advocacy Day with the state legislature. This event will allow time for chapter members to meet with state officials and discuss pressing issues related to the use of health IT to improve the health of the people of Louisiana. After these sessions, a reception will be held to further network with state government. A firm date and agenda will be released soon.
April 2018 - Social Event
Each year, the Louisiana Chapter of HIMSS endeavors to bring our membership educational content. We would also like to have events that are strictly for socializing and networking. In this vein, the chapter will host a social event in April 2018. Details on this event will be forthcoming.  
June 2018 - Awards Ceremony
For the past two years the Louisiana chapter of HIMSS has awarded the best and brightest in Louisiana's health IT network. The chapter is proud to announce that this tradition will continue on June 28th 2018 with an awards dinner and ceremony. Nominations for the following awards will open April 30th:
Public Servant of the Year
LaHIMSS Member of the Year
LaHIMSS Clinician of the Year
LaHIMSS Champion of the Year
We look forward to seeing all of our members at this annual event recognizing the hard work being done by the health IT community in Louisiana.
Elections
The new year means time to start thinking ahead for the 2018-2019 board of directors for the Louisiana Chapter of HIMSS. In 2018 we will make a call for nominations, hold elections and announce the new board prior to the awards dinner on June 28th. The schedule for election is as follows:
Call for nominations for Board Officers – February 19th –March 9th
Criteria: nominees must be a member of HIMSS and local Louisiana chapter member for at least one year.  To be eligible for an officer nomination you must currently be serving on or have previously served on a chapter working committee 
Elections – March 19th – 30th
Newly Elected Board Members Announced -  April 1st
Please check your inbox for more information on how to nominate yourself or someone else for a board position with the Louisiana Chapter of HIMSS. We will keep membership up-to-date on the elections by communicating via e-mail and the website http://louisiana.himsschapter.org/. Thank you for your participation and continued support of the chapter.
November 2018 - GC3 2018 Alabama
GC3 is coming to Mobile, Alabama in November 2018. This conference will be held November 14th, 15th and 16th. Mark your calendars and watch for more information about this exciting opportunity for education and networking with our neighbors in the Alabama and Mississippi Chapters.
---
National HIMSS Events and the Louisiana Chapter of HIMSS  
The Louisiana chapter of HIMSS has had a banner year at the national level. Our leadership and advocacy efforts have been rewarded and we are celebrating these efforts at HIMSS18 in Las Vegas from March 4th to March 9th with the following events.
GC3 Reception
Margaritaville - Monday March 5th from 8 to 10pm
Margaritaville will again host the GC3 reception at HIMSS18. Join us for a cheeseburger in paradise to celebrate the success of GC32017 and get ready for another hit with GCS2018. This annual reception at national HIMSS provides a networking opportunity for the Alabama, Mississippi and Louisiana chapters. Please look for information on how to register in your inbox this month.
Communities Carnival
Venetian-Palazzo M - Tuesday March 6th from 5:00 to 6:30
The chapter is participating in the fun and games at the Communities Carnival. Stop by our booth between 5:00 - 6:30 on Tuesday, March 6th for a chance to win fabulous prizes.
Awards Gala
Wynn – Latour Ballroom - Thursday March 8th 6:30 to 9:00
LaHIMSS has made a clean sweep of the chapter awards this year. Below is a list of the award recipients from Louisiana at HIMSS18.
Louisiana Chapter of HIMSS - Small Chapter of the Year  
Chad Cothern - Chapter Leader of the year
Hank Fanburg – Chapter Advocate of the Year
Lafayette General Medical Center - Davies Award Recipient
We hope to see you all at HIMSS18 and especially at one of the events featuring your local Louisiana Chapter.
LaHIMSS Presents Security Corner with P&N