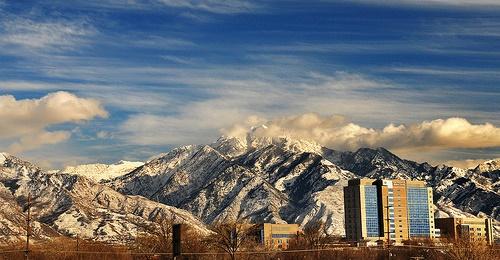 Member Spotlight: Lory Maddox, Clinical Operations Initiatives Manager for TeleHealth, Intermountain Healthcare
First Published September 30, 2106
Intermountain Healthcare: Telehealth Program Overview
At our August UHIMSS luncheon, I had the chance to meet Lory Maddox and learn a little of her work as a Clinical Operations Initiatives Manager for TeleHealth at Intermountain Healthcare. We spoke briefly about the Telehealth initiatives she is involved with and the excitement around those programs. In a follow up conversation, she and Heidi Nedreberg, TeleHealth Marketing Manager, gave more details of the initiative and its successes.
Tell me about yourself
My background is in nursing, business, and nursing informatics. I've been with Intermountain for 9 years and with our TeleHealth team since its inception, 3.5 years ago. I've watched it grow from initial pilot to current, systemwide connections.  As, clinical ops initiatives manager my role is to partner with clinical program leadership team to identify opportunities to launch telehealth programs within the organization that are aligned with our clinical programs. Currently I'm focused on providing telehealth support for our Women and Newborn Clinical Programs Team and remote patient monitoring programs.
What were some of the drivers to launch telehealth?
We really saw an opportunity to bring medical, nursing and other specialties to rural and community hospitals where that resource doesn't exist. For example, we do not have neonatologists at every community hospital. We want our highly specialized clinical and support staff to be in our acute environment so they can practice for what they have been trained for, yet there are needs for those services out in the community as well. When a baby is born with complications telehealth technology gives us the opportunity to get specialized knowledge and clinical expertise from our NICU's out to our rural and community hospitals where they don't see as many complex cases. We can bring the specialist to the bedside with our technology so that the specialist can support on-site care providers with the patient.
With that, there is the opportunity to improve outcomes associated with these patients and reduce the need to transfer patients to a tertiary hospital. We find that a lot of community hospitals can care for patients with a little extra support and expertise via TeleHealth.
Additionally, we want to reduce the burden of travel for patients in smaller communities and increase access of care for those specialized services. Patients can go to their local community hospital or clinic where they can have access to the same level of care they might expect at a major hospital but remain in their own community.
Where did the program start?
Our first project was Critical Care TeleHealth monitoring for our ICU beds, which started as a formal pilot at Park City and LDS Hospital. In addition to the clinical workflow design, there was a lot of technical design, including software and hardware, that went into that first release.  We worked with Microsoft to leverage their Lync video connection as our initial pipeline to connect video technology to the patient's bedside. For that early work, Intermountain was recognized by Microsoft with their Innovation Award for Healthcare in 2014.
As the excitement grew around telehealth, we had some neonatologists that requested we leverage Lync video and webcams to extend our NICU patient monitoring to rural hospitals. So we were able to put a camera on the baby to augment neonatologist consults.
Today, our Critical Care TeleHealth program covers 283 ICU internal beds, as well as four additional community sites where we provide telehealth support 24/7. We have over 800 installations of our telehealth technology at the patient bedside and deployed on carts, which are mobile and available to any patient location. There are over 20 telehealth programs up and running including ICU, stroke, crisis care, newborn critical care, infectious diseases consults and wound care consults. We also have many more pilot programs in flight in nearly every clinical program at Intermountain.
How do you ensure security around the technology?
We use Microsoft Lync, which is HIPAA secure. We also have a very robust IS Security organization that is constantly evaluating and assessing risk threat. Role-based permissions to access the application are obviously critical.
We wanted to build an integrated technology platform that could support any service where our clinical programs could leverage the program. Once that technology platform was in place it really becomes like any other modality for service delivery. Telehealth becomes a supportive clinical service type. It is another way to connect patients with providers.
In addition to Microsoft, we partner with American Well for additional technology support.
Future program outlook?
Leveraging our existing technology, we would like to allow family members that have loved ones in the hospital be able to camera in and see patients, particularly newborns, that are hospitalized. We are still exploring the feasibility of this and understand there are privacy and security concerns with rolling this out. From a patient's perspective, we think this would provide additional support and enhance the patient experience.
We also launched Connect Care in April 2016, where a patient can use a video and audio connection to talk with a healthcare practitioner, rather than going directly to Urgent Care. Connect Care has already seen impressive enrollment numbers from our patients, and is receiving high ratings and a lot of positive feedback from those who have used it.
Moving forward, we are looking at ways to extend video conferencing to the patient home for scheduled video visits, using the MyHealth patient portal, which would authenticate the user and provide a secure connection to a patient's established physician or clinical care team. 
Community and patient reception?
Since our launch three and a half years ago, we have seen extraordinary growth, both in the clinical programs we support and the patients and clinicians that use these services. Overall, our patients in the community have been very supportive of our telehealth initiatives. There were initial concerns about security and privacy of the connection, which we understood. We work hard to support the patients during their initial experience with the technology, but once they see how it works, they really appreciate how easy and simple it can be.