NYS CHAPTER BOARD OF DIRECTORS ELECTION RESULTS
The Leadership of the NYS Chapter of HIMSS has agreed to expand the number of Board positions by two (2) bringing our total representation to nine (9) individuals.  The NYS Chapter held an election for the Member-At-Large (2 positions) and Treasurer position. The terms for each position is two years.
At-Large Board Members enhance the Board's representation by serving on Chapter Committees and work groups and representing those groups in BOD discussions.  They are part of the membership development process and work through local members in developing and expanding the Chapter for the betterment of its constituency.
Congratulations!  The 2018 NYS Chapter Board Members At-Large elected in 2018 are:
Ryan Burke
Account Manager
TEKsystems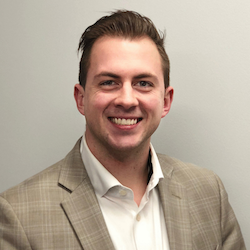 Ryan Burke is an Account Manager for TEKsystems in Albany, NY. Ryan grew up in Niskayuna, NY and attended Siena College in Loudonville, NY. Ryan partners with Healthcare Payers, Providers, and HIT companies in the Capital Region meet the evolving needs of the healthcare consumers through IT services, solutions, and staffing. Ryan is an active member of the IT community in the Capital Region: he currently serves on the Board of Directors for the Capital Region Chapter of Society of Information Managers (SIM), he is a member of the International Institute of Business Analysts (IIBA), and a member of the Project Management Institute (PMI).
Terri Couts RN, MHA, CHCIO-Eligible
VP, Clinical Systems, Integration and Epic Applications Program
The Guthrie Clinic

A driven senior leader and Epic implementation subject matter expert. Served as a pediatric cardiology nurse prior to 2007. Has 12 years of nursing experience which has provided the capacity to translate both nursing and physician requirements in today's "one-patient one record" strategic platform. Has the ability to liaise between clinical/hospital personnel and drive requirements to fruition within the IT department. Extends results throughout the aggregate healthcare enterprise. By applying lean six-sigma principals, nursing informatics and workflow analysis, she provides healthcare organizations with both a timely and accurate return on investment.
Her experience includes Epic Program Director for multiple Epic installs across various hospital systems. Her current role as VP of Clinical Systems, Integration, and Epic Program gives her oversite on all clinical applications, interfaces, project management office, Biomedical, and the Enterprise Epic program.  Some of her recent successes include telemedicine platforms, HIE integrations, patient engagement programs, and cost management programs. She has the proven ability to navigate an effective solution, bringing her project from inception to realization.
TREASURER ELECTION RESULTS
Thank you for paticipating in the vote for Treasurer.   The election results are in and we are happy to announce Theodore Kim will be the new NYS Chapter Treasurer!   Congratulations to everyone for your particpation and we wish Theo lots of luck is his new role.