Virtual CIO Panel this Friday!
We will check in with some of our NM Healthcare CIO's about their digital health roadmap post COVID-19.
Members and Non-members welcome! Register here: https://www.eventbrite.com/e/nm-himss-presents-digital-health-data-sharing-in-a-post-covid-world-tickets-115931525313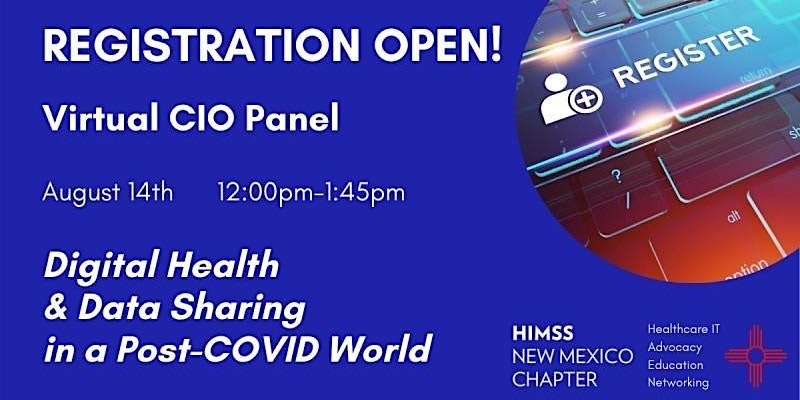 About this Event
Please join us as we hear from our New Mexico Healthcare CIO's.
Our Panel Members:
Peter Ambs, Ardent/Lovelace
Julie Bonello, Presbyterian Healthcare Services
Bindu Purushothaman, OptumCare
Other Special Guests:
Roy Sookhoo, CIO, UNM HSC
Justyna LaPay, CTO, Project Echo
Balaji Modhagala, Director, SiviSoft
About HIMSS
Healthcare Information and Management Systems Society, Inc. (HIMSS) is a global advisor and thought leader supporting the transformation of the health ecosystem through information and technology. As a mission-driven non-profit, HIMSS offers a unique depth and breadth of expertise in health innovation, public policy, workforce development, research and analytics to advise global leaders, stakeholders and influencers on best practices in health information and technology. Through our innovation engine, HIMSS delivers key insights, education and engaging events to healthcare providers, governments and market suppliers, ensuring they have the right information at the point of decision.
Headquartered in Chicago, Illinois, HIMSS serves the global health information and technology communities with focused operations across North America, Europe, the United Kingdom, the Middle East and Asia Pacific. Our members include more than 80,000 individuals, 480 provider organizations, 470 non-profit partners and 650 health services organizations.